filmon.tv fbox -
greatness in a box!
(Shipping March 2012)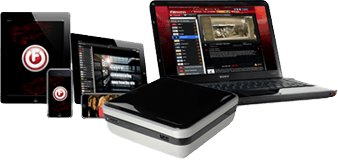 All in one! All your home Entertainment on the go!
Easy as 1-2-3 to watch on Mac, iPhone, iPad, Droid or PC!
Watch your cable TV Anywhere on tablets, phones and PCs! At home, or on vacation.
Control your Cable TV from far away.
Connect security Cams or your Media Drives to watch anywhere.
Launch online from the FilmOn.TV website!
Secure Check Out